Tropical Flourish
Men's High Top Canvas Shoe 
All of our Men's High-Top Shoes are custom-made-to-order and handcrafted to the highest quality standards.
Full canvas double sided print with rounded toe construction.
Lace-up closure for a snug fit.
Soft textile lining with lightweight construction for maximum comfort.
High-quality EVA outsole for traction and exceptional durability.
Please allow 5-7 days to receive a tracking number while your order is hand-crafted, packaged and shipped from our facility. Estimated shipping time is 2-4 weeks.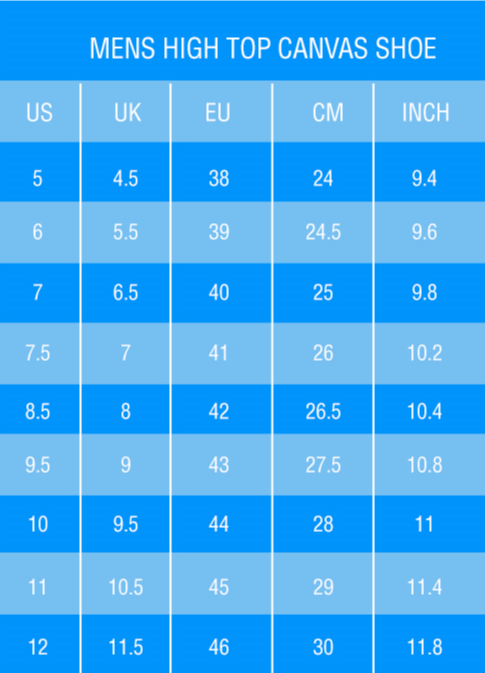 Shipping is a flat $4.99 fee for orders under $85. Shipping is free on orders $85+. The order will be hand-crafted and for products made in he USA they will be produced within 1-7 days and take up to 1 week for shipping on average. For products made by our manufacturing partner in China they will ship within 3-9 days on average after order is placed, and then you will receive a tracking number. Shipping time will generally take 1-4 weeks depending on where you live. To find out which products are manufactured where, scroll to the bottom of our page and click the link "where it's made" to see our list of products and where they are produced.
Refund and Exchange Policy

In the unlikely event that you have an order issue, the following guidelines will help make the process as fast and efficient as possible to get things resolved.

Before Contacting Us

Please read through our policy and find your order issue from the list below.

When contacting us

Please provide us with your name, order number, product issue, and a clear photo of the issue if there is a physical product issue.

Used Items and Term Limits

Items in used condition are not eligible for refunds or exchanges. New and unused items that have been successfully received by customers within 4 weeks are eligible for returns or exchanges. Once 4 weeks have elapsed from the receipt of goods, refunds and exchanges will no longer be accepted.

Refund Term Limits

Refund and exchange claims will only be accepted within 4 weeks of order processing.

Items Damaged

If an item is shipped damaged, you must send us a photograph of the damaged area. We will replace any items damaged at no additional cost.

Wrong Product Shipped/Missing Items

If we ship the wrong product to you, send us a photo showing how the product differs from what was ordered and we will replace or refund any such items at no additional cost. If there are missing items in an order please tell us the items that are missing and we will send the missing item.

Design Issues

If the design is a misprint on a product, please send us a photo. Credits, refunds, or reprints will be issued at our discretion if the printed design differs substantially from the artwork that was submitted. We will investigate every case and will work to provide a resolution that satisfies you.

Sizing Issues

In the rare event that you are unhappy with the fit of your shoe, we will process a free exchange for you.

Refunds will not be issued for sizing disputes, only exchanges are allowed.

Free Exchanges will only be allowed once per shoe order.

In order for a free exchange to be processed, you must provide the following information to us: reason the shoe didn't fit (i.e. too small, too big, too narrow), the new size requested, your name, and your order number.

Size exchange requests that differ by more than 2 sizes from the original size ordered will be considered a customer-input error and will not be eligible for exchange.

To reduce the risk of sizing issues, we have provided accurate sizing charts on each of our product pages.

Free sizing exchange requests only apply to high tops, low tops, sneakers, boots, casual shoes, flip flops, faux fur boots and slip-ons. No other product in the catalog is eligible for a free size exchange. In the event that you are unhappy with their size and it is not one of the products eligible for a free sizing exchange please contact us and we will try our best to help. We can't guarantee that we can do a free size exchange, but we will try our best to find a positive resolution for you.

Package Returned To Sender – Correct Address

If a package is returned to sender by the shipping courier, we will reship the package to you for free after an address verification is completed when you communicate the correct address to us. All returned to sender orders will be destroyed by the courier or we will be charged for another custom tax, duties and another shipping fee once we confirm to ship it back to our production facility.

If a package is returned to the sender by the shipping courier for the second time, we will reship the package to you for a fee of 50% from the Order Cost.

Package Returned To Sender – Missed Delivery Attempts

All missed delivery attempt orders that got returned to Sender who received notification from us or from the carrier to contact them for a delivery arrangement will only be compensated with 50% Refund Credit.

Package Returned To Sender – Change Address

If a package is returned to sender due to an Address Change and would like to reship the order to the new Address, we will do it with a fee of 50% from the Order Cost.

Package Returned To Sender – Wrong Address

If a package is returned to sender due to wrong Address Information, compensation cannot be granted for the cost and we will need to collect additional money to resend. If you need to make a modification to your order please let us know within 12 hours of purchase.

Lost Order – Wrong Address

We will not refund nor assume liability for orders that are lost due to incorrect Shipping Address. If you need to make a modification to your order please let us know within 12 hours of purchase.

Design Your Own Product

Please double check that the left and right of both shoes have an image uploaded on them, and for any other product please make sure that all sides and locations of the product have an image uploaded to it. Also, please make sure that image is good quality (300DPI or higher) and that it is correctly placed on the product how you would like it to be. We love to offer this functionality to our customers, but we are not responsible for incorrectly placed designs and/or low quality images.
Our prices reflect the hours and care it takes to create the authentic designs for our products, as well as the materials that are used to make them. We are a small, US based business, that produces our products on demand for each customer. As a result, our manufacturing costs can be higher than a store that doesn't produce a unique product for each order. Care and attention are always our priority for each order, and we will never waver on that. We partner with manufacturers that use ethical practices and quality materials. We pay them fairly, and we always use additional resources to expedite our process. You can always feel good about ordering from us, as we give a portion of our orders to art education for children.
---